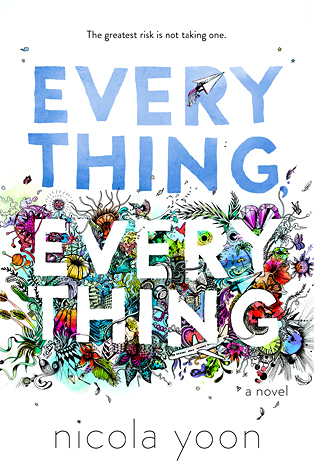 Author: Nicola Yoon
Illustrator: David Yoon                                                               Genre: Contemporary                                                                   Page Length: 320
Publication Date: September 1, 2015                                                   Publisher: Delecorte Press                                                           Source: Bought                                                                       Rating: 5/5                    
Goodreads
My disease is as rare as it is famous. Basically, I'm allergic to the world. I don't leave my house, have not left my house in seventeen years. The only people I ever see are my mom and my nurse, Carla.
But then one day, a moving truck arrives next door. I look out my window, and I see him. He's tall, lean and wearing all black—black T-shirt, black jeans, black sneakers, and a black knit cap that covers his hair completely. He catches me looking and stares at me. I stare right back. His name is Olly.
Maybe we can't predict the future, but we can predict some things. For example, I am certainly going to fall in love with Olly. It's almost certainly going to be a disaster.
REVIEW
Nicola Yoon's explosive debut novel for young adults has landed her in a contemporary throne, seated next to other great contemporary writers like Rainbow Rowell and John Green.
A simple trigger can send Madeline Whittier in the hospital – or worse, dead. For seventeen years, she's been cooped up in her sealed-shut home in Los Angeles, with her cautious-doctor mother and caretaker Carla. Madeline doesn't mind the loneliness much, she has Carla and the many books she reads and rereads to keep her company. She doesn't attend school, everything is through Skype chats and once in a blue moon, a teacher will come to her house. But the family that moves next door, ignites the want, urge and hope to step outside. Olly, he contacts her through IM and emails, through his bedroom window and a chance encounter and a few steps later, Madeline wants the world. She wants Everything, Everything.
Everything, Everything was everything and beyond what i had expected. Going into the book with high expectations and in hopes of finding something along the lines of John Green and Rainbow Rowell-esque, i found it. I found it all, the friendship, the first love, the family, the atmosphere, the story telling and the characters. I found it all and i'm so glad i did.
Madeline Whittier -Maddy- is eighteen years old and mulitracial. Being both African American and Japanese, she's a very diverse character. Although she never ate sushi -because of SCID (Severe Combined Immunodeficiency) I think- she did eat Chilaquiles! Maddy was a very smart character, not only because of her higher educational classes, but because she lived and experienced 'Outside' life through books. She read and reread -numerous times- because she got a different meaning each time. She is also a very honest character, she never lied to herself how life 'Could be Better', because it wouldn't, she lived in the moment.
Also, if you are a Lord of the Flies survivor (meaning: you didn't die of boredom) so is Maddy.
Olly is the boy next door. He's a parkour-er and a character who i identify with most. He wears all black, and a beanie -not to hide his 'tousled' hair, but his somewhat bald-buzzed hair-. I really enjoyed his overall character, his past which was still his very present strengthened him. But so did Madeline, she brought ideas and helpful things to say. They grew together, through the good and bad defying the truth to risk it all.
The story flowed quickly for me, short and sweet with small chapters and a handful of illustrations kept me fully immersed in Maddy's life. But that ending had me flailing and falling over myself, because DAMN that was unexpected. Nicola Yoon pulled the rug from underneath me, but it didn't stop me from reading! So if you haven't already rushed over to your nearest bookstore, do so now because i guarantee you will be having all the feels!
P.S: Everything, Everything is also a #1 YA bestseller on the NYTimes