Waiting on Wednesday is a weekly meme created by Breaking The Spine where we share upcoming releases that we are excited about!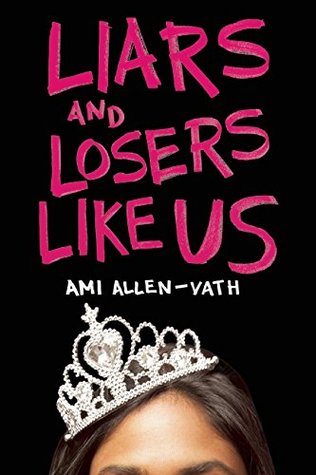 Title: Liars and Losers Like Us 
Author: Ami Allen-Vath
Publisher: Sky Pony Press
Publishing Date: March 15th, 2016
Summary: 

Keep calm and make it to prom night—without a legit panic attack.

For seventeen-year-old Bree Hughes, it's easier said than done when gossip, grief, and the opportunity to fail at love are practically high-fiving her in the hallways of Belmont High.

When Bree's crush, Sean Mills, gives her his phone number, she can't even leave a voicemail without sounding like a freak. Then she's asked to be on Prom Court because Maisey Morgan, the school outcast nominated as a joke, declined. She apologizes to Maisey, but it's too late. After years of torment and an ugly secret shared with their class's cruel Pageant Queen, Maisey commits suicide. Bree is left with a lot of regret…and a revealing letter with a final request.

With Sean by her side, Bree navigates through her guilt, her parents' divorce, and all the Prom Court drama. But when a cheating-love-triangle secret hits the fan after a night of sex, drinks, and video games, she's left with new information about Sean and the class Pageant Queen. Bree must now speak up or stay silent. If she lets fear be her guide, she'll lose her first love, and head to prom to avenge the death of the school outcast—as a party of one.
Why I'm Waiting… 
First of all, I knew about Liars and Losers Like Us when it was then called, Prom Bitch. Which I was just as excited about then as I am now. I like the new title but i'd really like an explanation why Prom Bitch just disappeared. I personally think it'd be a great eye-catcher on a bookshelf, appealing to anyone. Other than that, i'm sure the book will be tackling mature themes such as suicide and sex, which is great because we need more books that deal with real life issues and experiences that teens -young adults- struggle with. I can't wait until March … that is if i have saved enough money to buy any more 2016 releases! 
What are you waiting on this week?